Use Automation to Make Your Life Easier!
How To Automate Data Entry of Sales, Fees, Taxes & More Webinar will help you understand the value of automation and how it can help you create a more efficient and successful bookkeeping business.
Access the replay
On-Demand
Automation Can Change Your Bookkeeping Business Forever.

About 45% of accounting professionals are looking to automate manual tasks like data entry with 20% already investing in automation, according to Practice of Now research.
It's now or never if you want to keep up with the industry.
Join Amaka, the global leader in accounting integrations and automation, for a free webinar on how to get started.

Dejoey Ann, the Head of Customer Success at Amaka, will be going through how you can use accounting integrations to automate the data entry of sales, fees, taxes and more. As an example, she'll walk you through their popular Square + Xero solution.

Learn how leading bookkeepers and accountants are integrating e-commerce platforms, POS systems and more to their cloud accounting. Save dozens of hours every month without having to pay hefty fees.

Register to learn about:
-Syncing e-commerce platforms and POS systems with Xero, QuickBooks and more
-Setup process and account mapping options available to automate data entry of sales, fees, taxes, etc.
-How bank reconciliation can be reduced to just a few clicks

Amaka is trusted by over 35,000 users globally as a result of the seamless, reliable and flexible integrations built by accounting professionals. Key integrations include BigCommerce, Revel, Shopify, Square and Squarespace with connectors such as Amazon, eBay and WooCommerce coming soon.
So, they know what they're talking about. :)

Register TODAY to learn how automation can work for you!
Data Entry Becomes Painless
Let automation do the work!
Frees Up More Time
With tasks being automated, you can focus more on growing your business and maybe taking that vacation that's been on your mind.
Gain More Knowledge
You'll understand what resources are available to help you automate your business.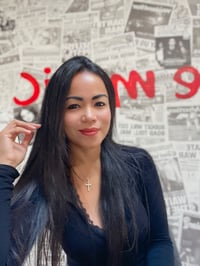 Dejoey Ann
Head of Customer Success, Amaka
Dejoey has over 15 years of experience in accounting and CX. She leads a team of Integration Experts who are available around the clock via video call, live chat and help desk. Her mission is to make sure you can leverage as much of Amaka's accounting integrations as possible to save yourself more time.
How To Automate Data Entry of Sales, Fees, Taxes & More
Webinar
Brought To You By
Leverage Automation To Change Your Bookkeeping Business Forever!