Earn What You're Worth!
During this webinar, you'll learn how to price your bookkeeping services with confidence, so you can get paid properly for your talents!
Register Today
April 5, 2023 - 12pm ET
Are you tired of not being paid what you're worth?
Scope creep is an all too familiar problem for accountants and bookkeepers - often being asked to do more than what was originally agreed upon and quoted. This leads to potential revenue loss, as well as lower profit margins on the whole. More importantly, it can also take up time and mental energy you don't have.

Conversations on pricing can be uncomfortable, especially with longstanding clients, but you deserve to be paid for the work you're actually doing.

So, how do you achieve accurate pricing?

There is no one-size fits all approach in the world of pricing, and a shift to value-based pricing or fixed pricing as opposed to hourly pricing can require a more thoughtful strategy.

In this session, you'll learn the pros and cons of popular pricing strategies and how technologies, like Dext, can help you accurately price your current and future clients.

This information can potentially change your bookkeeping business FOREVER.

Don't miss it!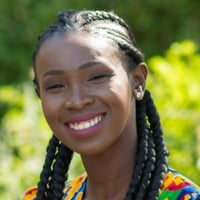 Nana Guenther
CPA, CA, Sr. Practice Solutions Expert
Dext
Nana has a passion for creating efficiencies. Her career began in public practice before transitioning to corporate accounting and controlling roles for multi-national corporations in various industries including private equity real estate and infrastructure technology.
Much of her focus over the past several years has been leading finance teams through digitalization projects, restructuring initiates, ERP implementations and process improvements. Nana is also a long-time facilitator for the CPA Professional Education Program.
She joined Dext in early 2022 as a Practice Solutions Expert, seeking to use her expertise to make a broader impact on the accounting community and industry.